Featured Articles
These stories are about the power of Special Olympics to inspire hope, confidence and courage. Special Olympics changes the lives of our athletes with intellectual disabilities but also our coaches, families, volunteers and others who have the opportunity to take part.
Athletes of SOSG
Here at Special Olympics, we celebrate the efforts of our athletes no matter how big or small. It is the effort that counts!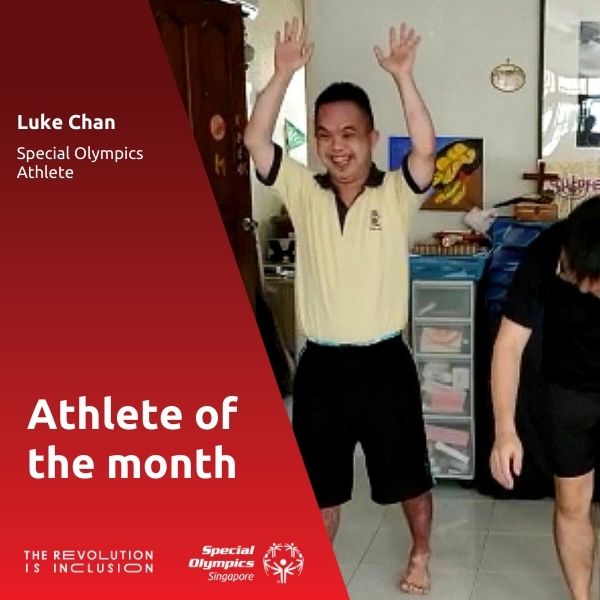 Jan 2022 - Luke
Luke has been a conscientious bocce athlete, and his commitment to his training is even more evident despite the pandemic. Albeit training being conducted virtually, Luke makes an effort to attend almost every session and does his best to do the exercises and activities assigned by the coaches. Luke makes an effort to continue his own practice even when not called upon by the coaches. This is a trait that is commendable and we are proud of his progress and attitude. He is also independent able to practice on his own without much assistance from his family members. Great job Luke!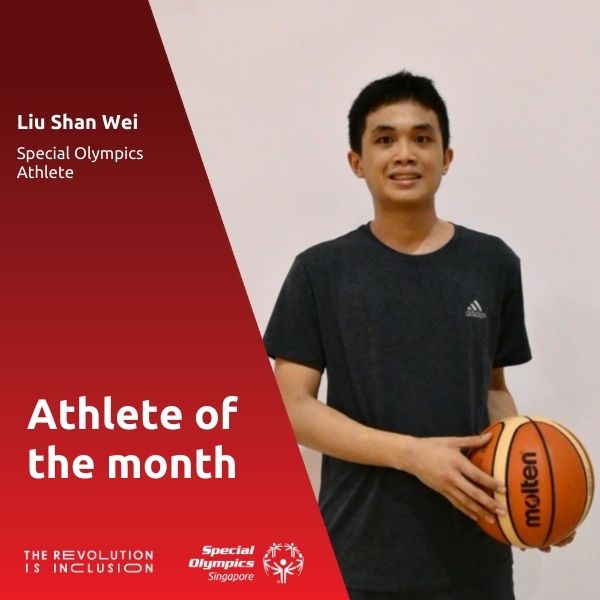 Dec 2021 - Liu Shan Wei
Every day at Special Olympics, we celebrate the achievements and abilities of our athletes. No effort is too small, as long as you try your very best. We believe that sports have the power to reveal the champion in all of us. This month, we want to give a shout-out to our athlete from the basketball outreach, Liu Shan Wei! "Super hardworking. Comes for all training unless there is work commitment. Never gives up and pushes himself to his limit. No role is too small for him, even if it means that he is not playing a forward position. He takes pride in his endeavours and always put his best foot forward" - Nicholas Lee, Unified Partner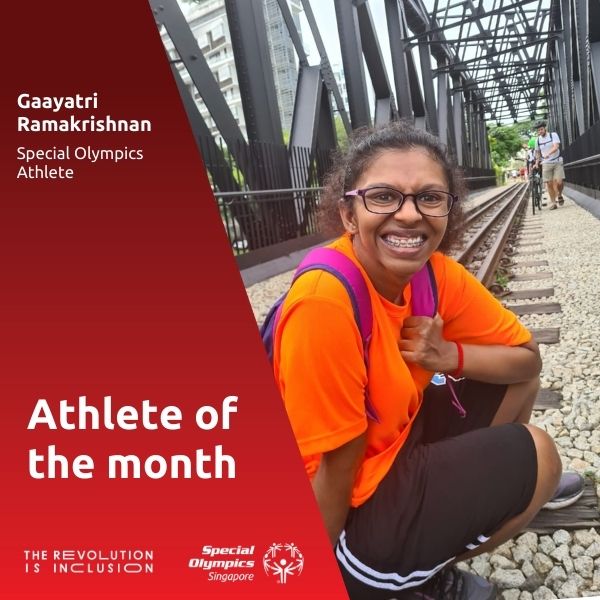 Nov 2021- Gaayatri
Gaayatri has been enjoying running since 2017 and actively participates in SOSG's weekly outreach training. She never fails to brighten the atmosphere with her wide and cheerful smiles! Through running, she has gained confidence, fitness and many new friendships along the way. Keep running towards your goals Gaayatri!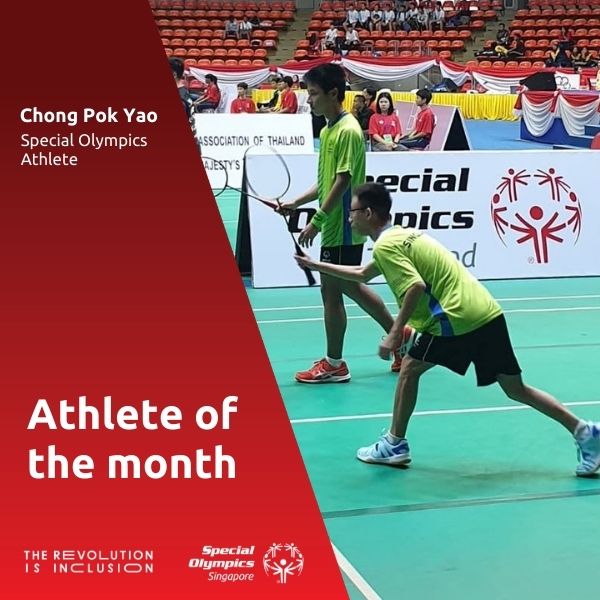 September - Pok Yao
This month we celebrate our athlete from badminton outreach, Pok Yao! He shows determination and discipline, always making effort to attend all training sessions, be it physical or virtual. His effort paid off when he was selected to represent SOSG and came home proud with a silver medalist at the 1st Special Olympics Asia Pacific Unified Badminton Championship 2019 held in Bangkok, Thailand. Through sports, Special Olympics athletes build skills and become leaders on and off the field. They have so much to teach us all!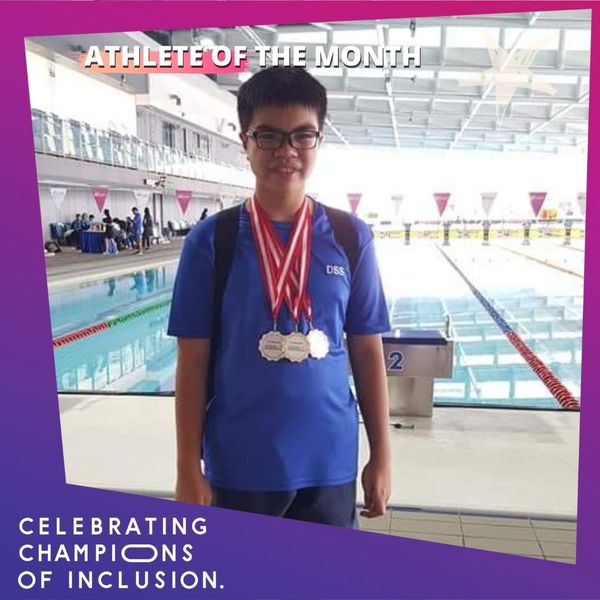 August 2021- Jeremy Yeo
This month, we'd like to give a shout-out to an athlete who embodies this inspiring attitude, Jeremy Yeo ! 🤩 "Jeremy is extremely diligent when comes to sports and exercise. He puts in extra effort when performing the swimming drills. During training, Jeremy will always keep a positive attitude whether it may be a good day or a tough day for him. Because of this, he is well-liked by the coaches and his peers."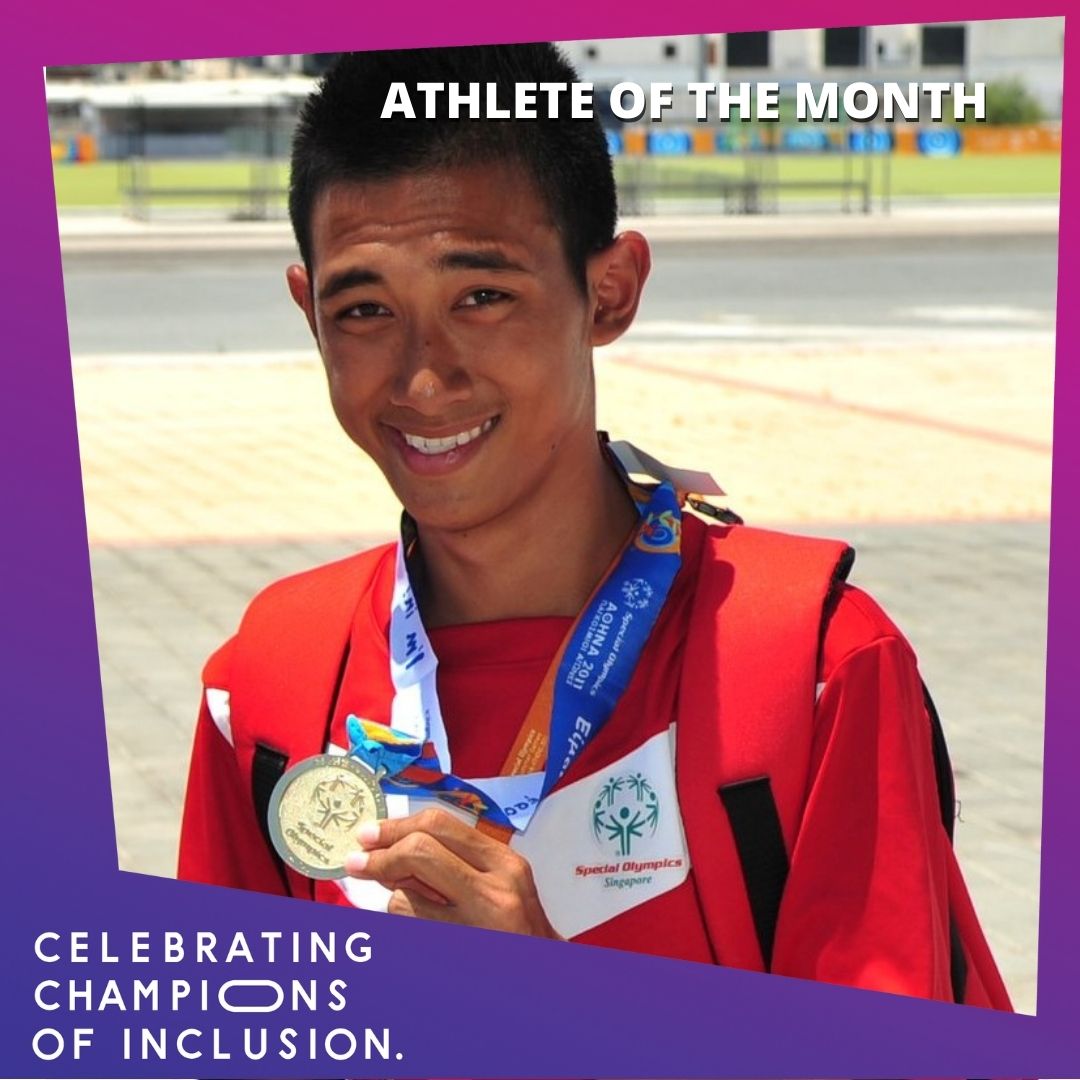 July 2021 - Muhammad Syzwandy
"One of Syzwandy's highlights as an athlete is representing Singapore at the Special Olympics World Summer Games 2011 in Athens, Greece and attaining the gold medal for football! He is an inspiration to coaches & teammates who always comes for training and gives his best effort despite his hectic schedule. In his personal life, he has a never-say-die attitude and is determined to do better each time. He worked hard to gain entry into and graduated from ITE. He is currently working as a QC inspector and we are very proud of his progression!"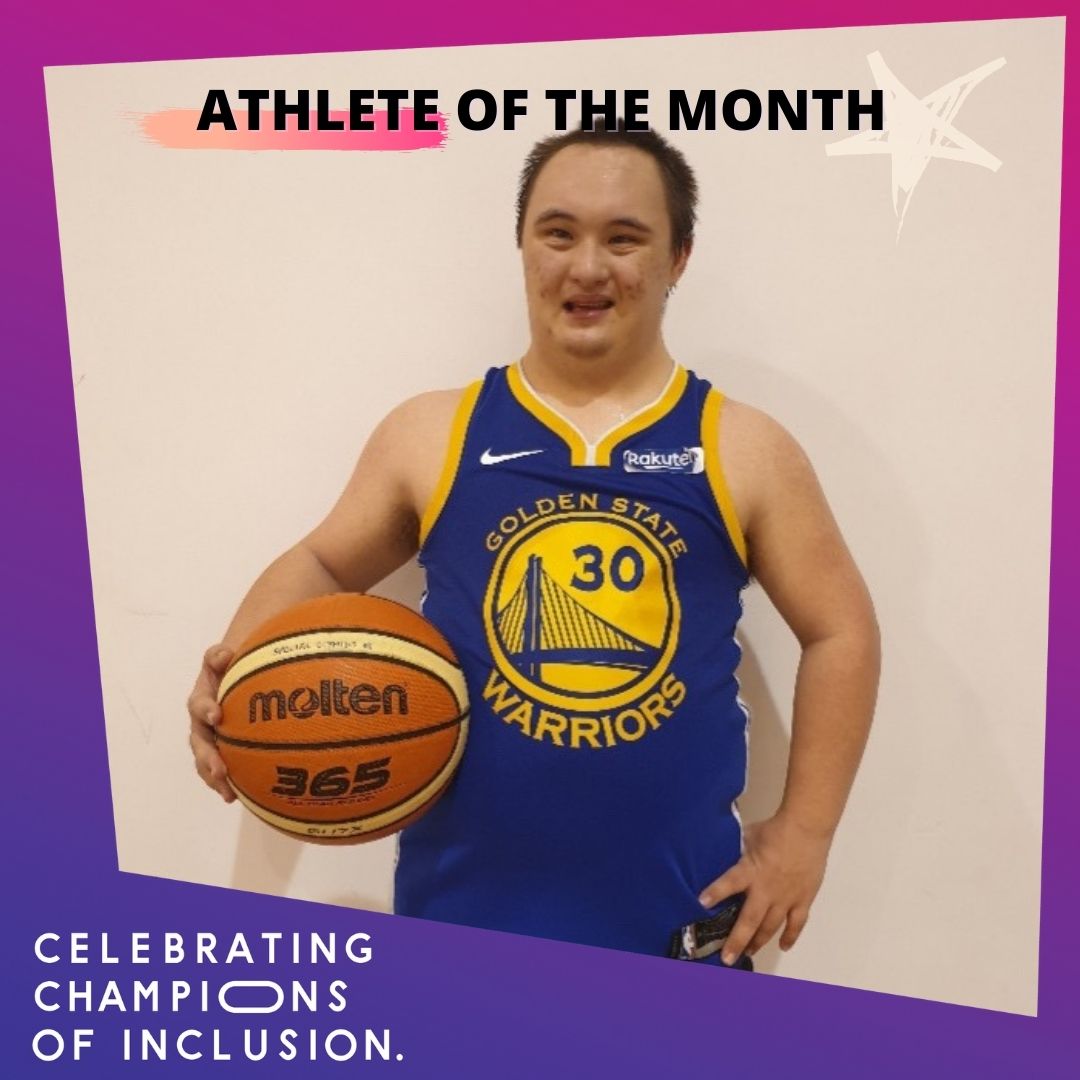 June 2021 - Max Milsom
This month we'd like to give praise to our outstanding athlete, Max Milsom! Here's what our volunteer has to say about Max: "He's always positive and full of enthusiasm. Always willing to learn and try new things. Hardworking. Ever ready to push and challenge himself. He packs a pretty mean spin move under the basket as well. I've always enjoyed bantering with him. Such a joy to train alongside him – Mark Chiam, volunteer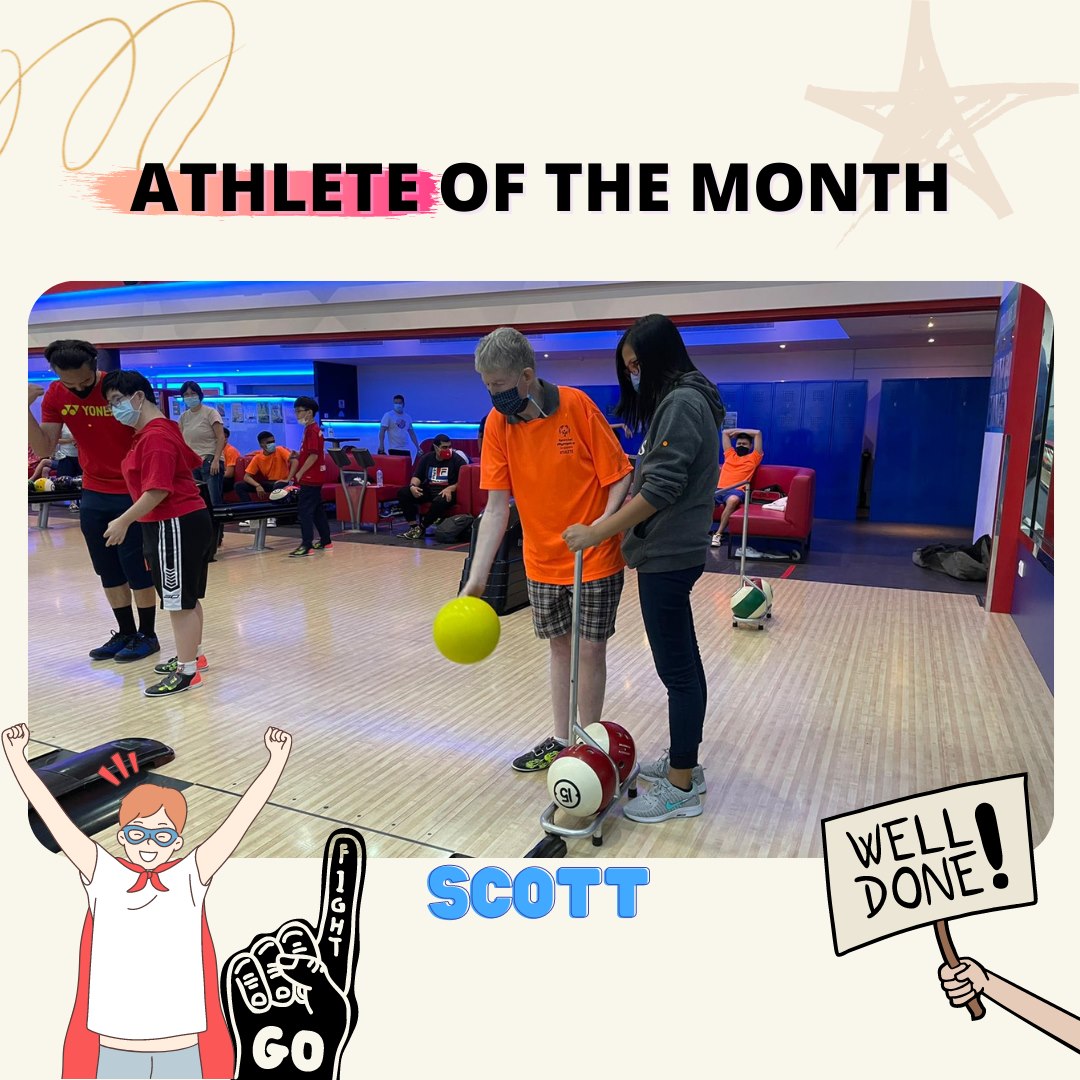 May 2021- Athlete Scott
Persons living with cerebral palsy may struggle with many limitations and challenges, and many may assume they cannot participate in sports. Our athlete, Scott, is a great example that sports for persons living with disabilities are possible! He is 52 years old and diagnosed with cerebral palsy with tunnel vision since birth. Over the past few years, he has lost his remaining vision, but it did not deter him from continuing to pursue his love for bowling. Under the supervision and careful guidance from his coach, he has made great improvements and we are so proud of him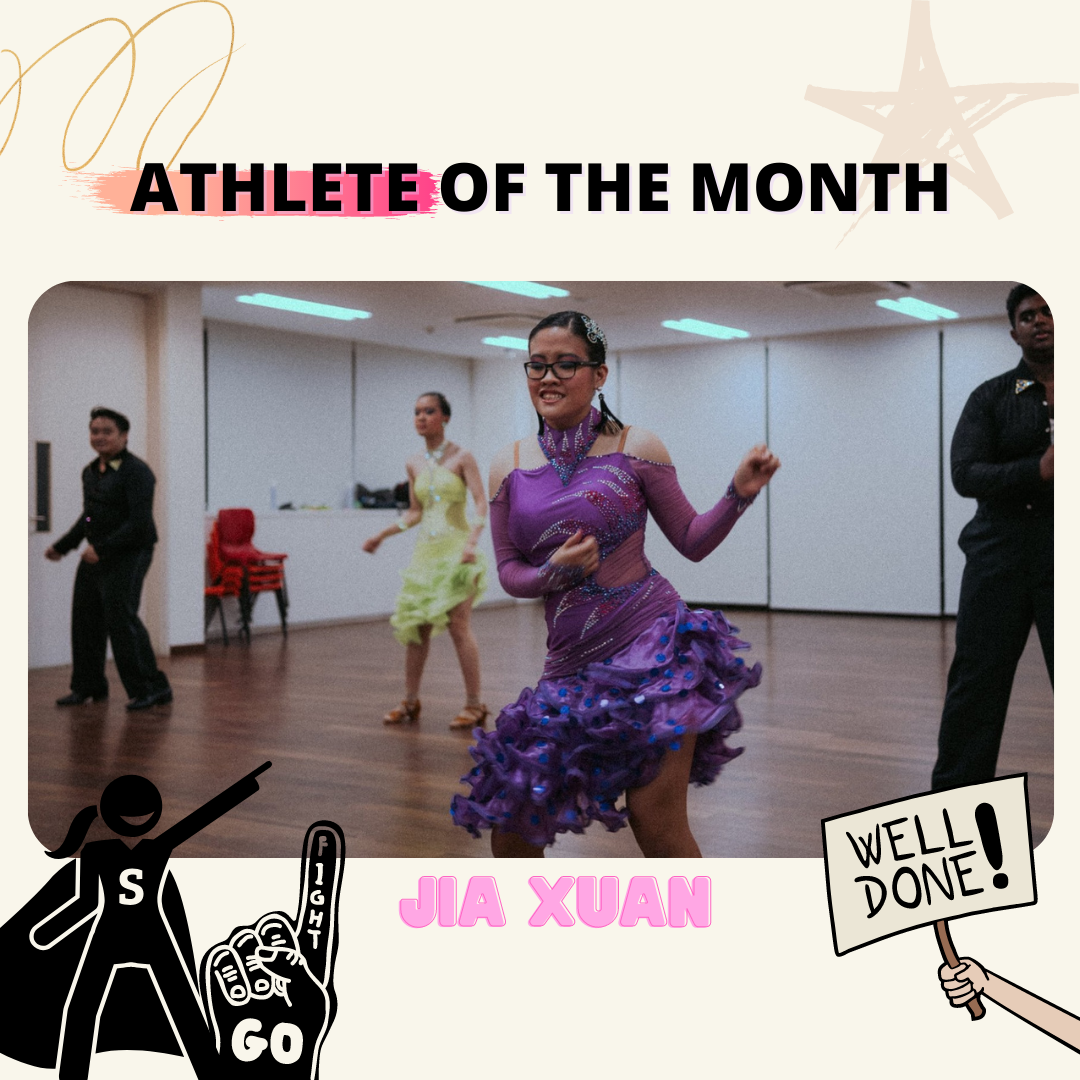 April 2021- Jia Xuan
Always up for a challenge, she has been involved in many sports since young. From table tennis, martial arts, basketball, dragon boat to most recently, floorball and dancesport! Jia Xuan is definitely an adventurous and courageous athlete whom we are very proud of! We hope she can continue to enjoy all the different sports and inspire of all us. Above all, all these opportunities are made possible by YOU for donating or supporting in one way or another, so we can get one more athlete onto the playing field.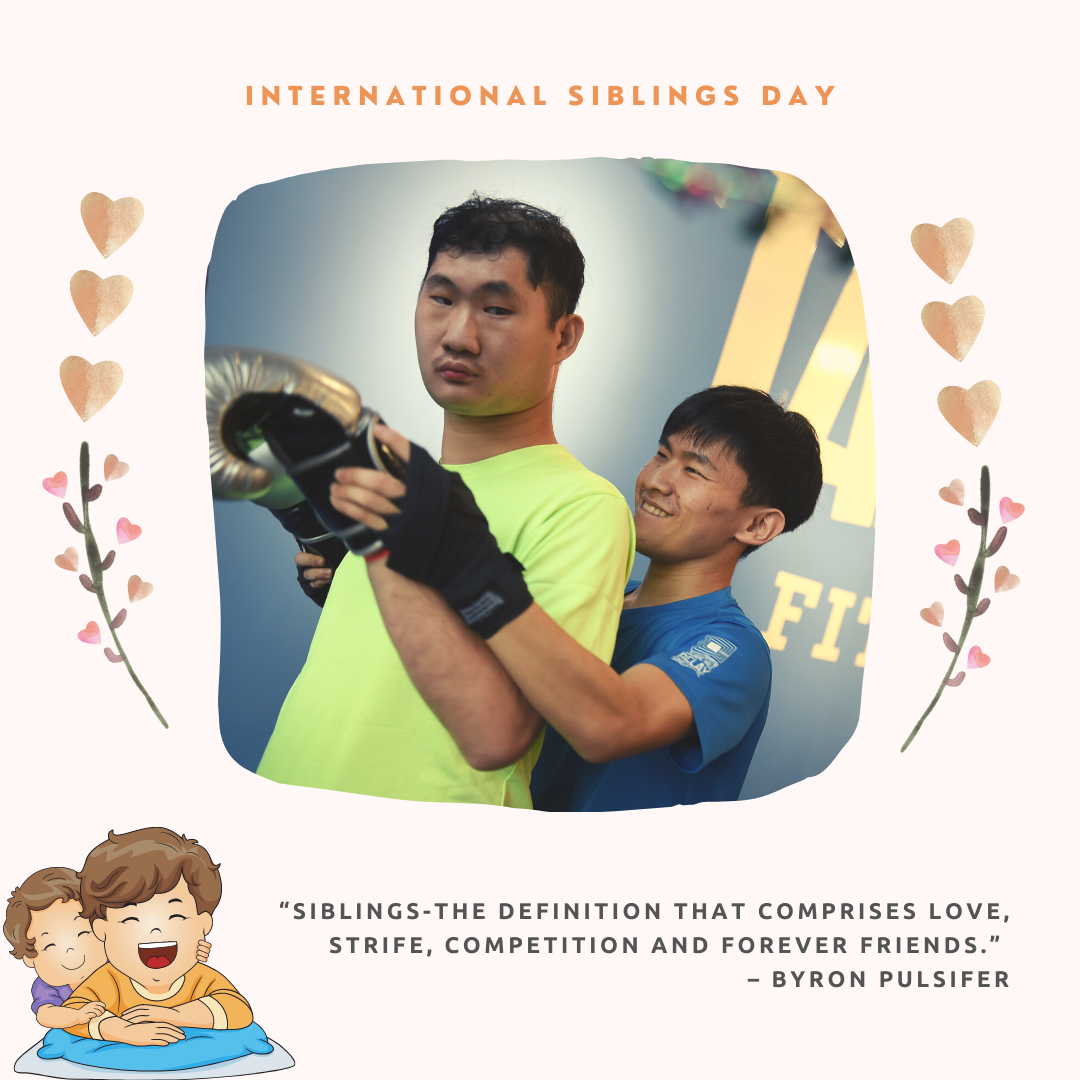 International Siblings Day 2021
"Siblings-the definition that comprises love, strife, competition and forever friends." – Byron Pulsifer Celebrate International Siblings Day and give thanks to your brother and sister for this special bond you share with them!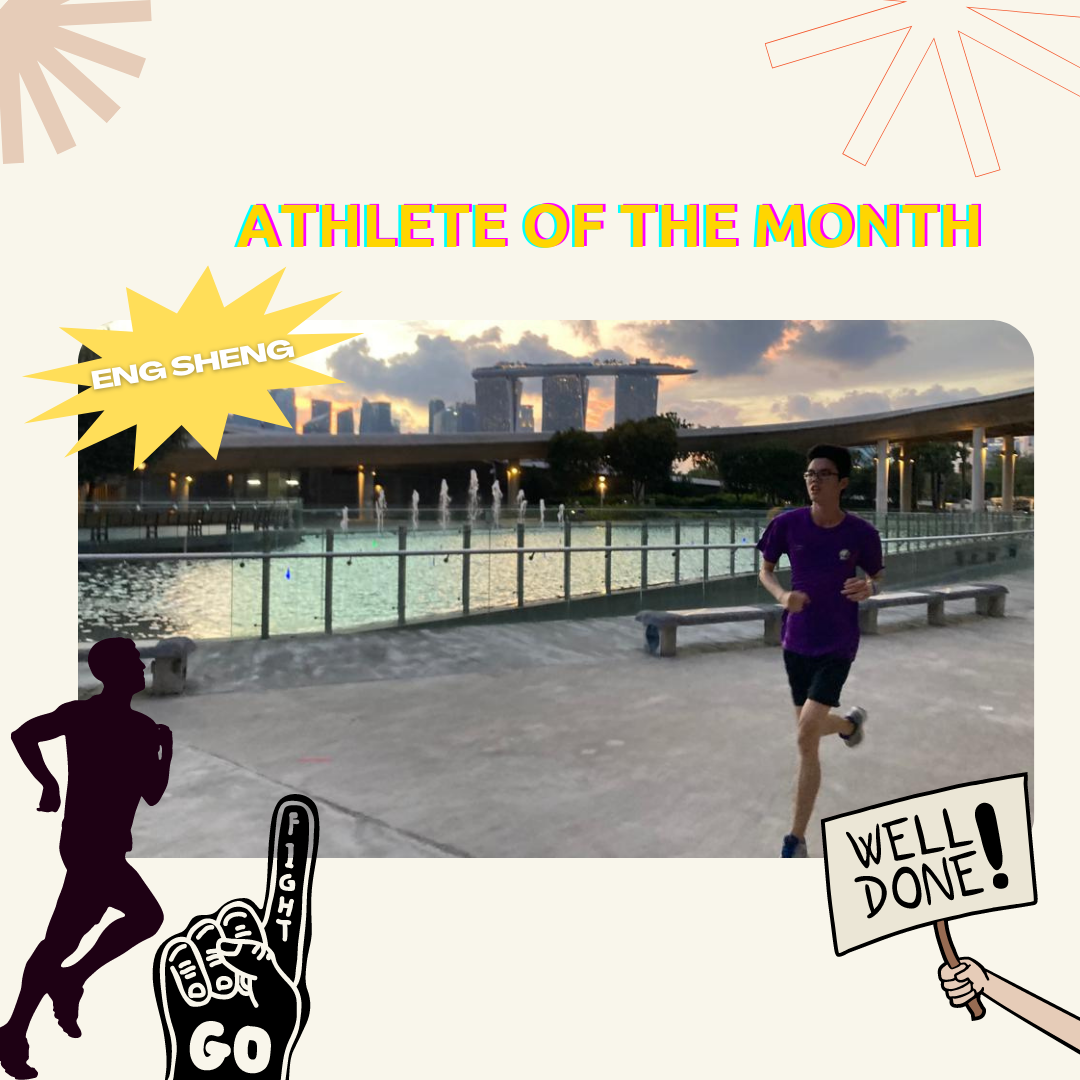 March 2021- Eng Sheng
This month we'd like to give praise to our outstanding athlete, Eng Sheng! His running pace is approximately 5:15/km and that is way faster than the average runner. This couldn't be achieved without the encouragement of his mentor, JP, who volunteers his time weekly in our athletics training as well as Eng Sheng's sheer determination and focus!